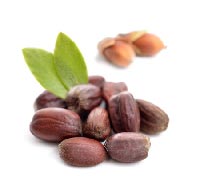 Jojoba oil is extracted from the seed of the jojoba plant, a bushy evergreen shrub that can grow to be fifteen feet tall and ten feet in diameter. Sometimes called 'liquid gold' because of its lovely yellow colour and fantastic beauty benefits, jojoba oil is structurally different from other seed oils; it's actually technically a liquid wax. Its unique structure closely resembles that of the skins own natural oils, so it can be easily absorbed without blocking pores or causing irritation.
It's also packed with beneficial vitamins, minerals, and antioxidants, making it a superfood for your skin! It's very high in vitamins C and E, which are well-known for protecting against skin cancer and naturally slowing down signs of aging. The B-complex vitamins found in the oil work to improve the moisture retention abilities of your upper layer of skin, protect your cells from damage, and encourage healthy cell reproduction. Jojoba oil also contains a ton of iodine, which helps to heal wounds and fights against harmful bacterial growth that can lead to breakouts.
Another thing that makes this oil so special is its ability to benefit people of all skin types; it allows oily skin to breathe more freely by regulating oil production, naturally softens dry skin while preventing moisture from escaping, and helps to smooth wrinkles and fine lines in aging skin. Thanks to its amazing chemical structure and all the natural nutrients it contains, this beautiful oil is one of nature's most precious gifts to human skin!