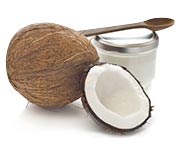 For thousands of years, coconut oil has been revered across the globe for its many miraculous skincare applications. Today, this ancient oil is one of the best known natural beauty products in the world, and it deserves every bit of the fame and recognition it's received. The oil produced by this delicious tropical fruit is incredibly rich in saturated fats, vitamin E, and proteins, making it a real treat for your skin.
It's composed of nearly 50% lauric acid, a fatty acid that your body converts into a substance called monolaurin. Monolaurin has strong antimicrobial properties, which give coconut oil the ability to protect your skin from harmful bacteria that can cause inflammation and blemishes by entering your body through your pores. Several other types of saturated fats are found in the oil as well; they prevent moisture from escaping your cells, which keeps your skin healthy and ensures it stays smooth to the touch.
As if that's not enough, the high content of vitamin E found in the oil works to protect your skin cells from damage, delaying the occurrence of wrinkles and minimizing the appearance of scars. Last but not least, the proteins that coconut oil is rich in contribute to cellular health and tissue repair, making sure that your skin stays healthy and rejuvenated. This nourishing oil might not be one of nature's best kept secrets anymore, but incorporating it into your daily routine is still one of the best things you can do for your skin!