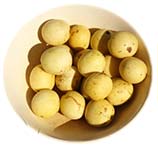 Sometimes called the 'elixir of youth', marula oil has been the heart and soul of skincare in Africa for centuries. It comes from the seeds of the marula fruit, which grows in southern Africa on amazing deciduous trees that thrive in areas usually considered inhospitable to plants. Marula oil is a potent source of nutrition and energy for your skin cells; it contains powerful antioxidants as well as high concentrations of nutrients and essential fatty acids that help the plant survive in harsh conditions.
It actually contains 60% more antioxidants than argan oil, making it a real superhero when it comes to neutralizing free radicals and protecting your skin from premature signs of aging. The oil is also rich in omega 6 and 9 essential fatty acids, two natural compounds that are essential for healthy, radiant skin. They work with your body to naturally build up the protective layer of your cells, reducing the appearance of fine lines, wrinkles, and blotchiness. The fatty acids also have natural anti-inflammatory and anti-microbial properties, which reduce redness and help combat blemishes.
Marula oil contains a ton of vitamins C and E as well, which combine perfectly with the essential fatty acids to lock in moisture and promote elasticity in your skin cells. This ensures that your skin stays perfectly hydrated and smooth! There's no doubt that this miraculous oil is one of Africa's greatest treasures, and all the natural nutrients it contains will do wonders for your beautiful skin.