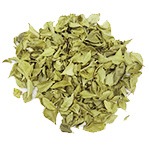 Often called South Africa's miracle herb, buchu is an amazing plant that's only found in the mountains of the Western Cape. It's a small, round bush about the size of a hedgehog whose worth has been known by the indigenous Khoi San people for hundreds of years; in the early 1700s, a mere thimbleful of the herb could be exchanged for an entire sheep. When you consider all the health benefits of buchu, it comes as no surprise that it was so valuable, and still is. The leaves of the plant are a fantastic source of antioxidants, disease-fighting flavonoids, minerals, and vitamins A, B, C, and E.
Buchu is also a natural diuretic, and can be brewed into a fruity, black-currant flavoured tea that aids digestion, helps rid the body of excess water, and works to prevent cystitis and kidney problems. It's also naturally anti-inflammatory, which means it can help with the management of inflammatory conditions throughout the body including joint pain, eczema, stiffness, treatment of burns, gout, and premature aging. It's even an effective way to lower blood pressure and improve overall cardiovascular health.
The plant does wonders for your skin as well: its natural antiseptic and antimicrobial properties protect your skin from infection and harmful bacteria. It also soothes irritated skin and deep-cleans your pores, naturally reducing blemishes and blotches. Whether you chose to drink it as a tea or introduce it to your skincare regime, buchu is a miracle of nature that will do wonders for your well-being.