Shedding Light On Animal Testing In The Beauty Industry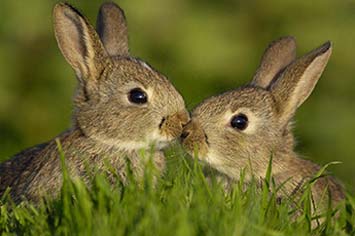 We're proudly cruelty-free
Every time you open your wallet, you're taking a stand. We believe in keeping beauty pure, and doing business in a way that doesn't harm the planet or any of its inhabitants. We're proud to be endorsed by Beauty Without Cruelty – our promise that none of our luxurious skincare products are tested on animals, or contain any animal ingredients.
What is animal testing?
Though many of us already know that it's something we'd prefer not to support, let alone fund with our beauty purchases, few of us are aware of the history of animal testing, the gory details involved in testing beauty products on animals, and the true extent of trauma it inflicts on our furry friends. In a nutshell, animal testing refers to the application of products intended for human use, on living animals. Most of the time, these tests are performed to assess how safe the products are for use by humans.
Everyone knows how terrible the sting of getting shampoo or mascara in your eye can be. Innocent animals often have to endure this pain – multiplied – in the name of skin and eye irritation tests. A common way of conducting this test is to rub a certain chemical contained in the product onto a rabbit's shaved skin, or to drop the chemical directly onto the eye – all without any pain relief. The test subjects often end up blind, with swollen, burning eyes .This is just one gruesome example. Animals are also used to test toxicity of chemical products (these require the animals to be force fed large amounts to determine how much they would need to ingest to cause death!), effects on reproductive health, and more.
Other tests involve routinely injecting animals with toxic substances, force-feeding, permanent disfigurement and more. Most animals are killed once their tests have been carried out. Animals most commonly subjected to these experiments are mice, rats, rabbits, and in other parts of the world, chimpanzees.
Why do so many companies still insist on animal experiments?
The simple fact is that scientists have been testing on animals for centuries. It's the go-to testing and research method, and although many organisations and brands are speaking out in protest, it's going to take some hard work, stringent laws and serious personal decision-making to make this paradigm shift happen.
The alternative to animal testing
With the development of non-animal means of testing, and the realisation that fewer consumers are willing to support brands that test in this way, many organisations are investigating and adopting more humane methods.
The rapid advancement of technology has given us the tools we need to create beauty products that are beneficial – and ethical – from the crop to your cosmetic case. These alternatives range from routine toxicity testing done on human cells and tissues to state-of-the-art systems that mimic human organs, plus other methods that are cheaper, more efficient and more reliable (research has shown that most animal experiments are not necessary for determining a product, ingredient or even a disease's effect on humans).
Let's work together
Animal testing is illegal in the European Union, Israel and India, but most of the rest of the world has not yet been driven by the powers that be to find alternative approach.
When it comes to revolutionising a conventional way of doing things, real change can take a while to rear its head. If each of us makes a conscious effort to actively choose health, beauty and even home care products that have been made in a humane way, with ethically sourced ingredients, we can make a huge difference to literally millions of innocent animals every year.
Every purchase is a vote, a choice. A cruelty-free lifestyle all comes down to committing to a healthy lifestyle – in whichever way is manageable for you and your family right now. For some, that could mean making the switch to a kind diet, or it could be using body care that cares – for animals, people and the planet, or even starting something as simple as recycling the packaging your food comes in. Whether you do one or all of the above and more, the fact remains that every little bit counts.